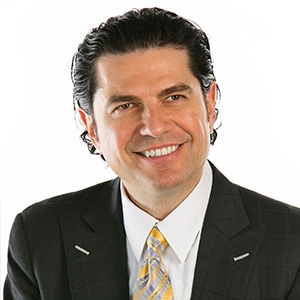 Aldo Leopardi
B.D.S., D.D.S., M.S., Prosthodontist
Dr. Leopardi received his undergraduate dental degree from the University of Adelaide, South Australia, in 1984. He enjoyed private practice as a general dentist in Adelaide, Australia, for several years prior to receiving his specialist training and master's degree in combined fixed, removable and implant Prosthodontics, at the University of North Carolina, at Chapel Hill, in 1993.
At Chapel Hill, he also taught Fixed Prosthodontics as a Clinical Assistant Professor. Upon return to Australia, he began a successful Prosthodontic private practice in the Gold Coast region of Queensland, Australia.
In 1996, he joined the Prosthodontic faculty at the University of Detroit Mercy (UDM), Michigan, where he also obtained his American DDS degree. Teaching responsibilities at UDM included Clinical Supervisor and:
Co-Director of the Fixed Prosthodontic Program
Director of the Complete Dentures Program
Implant Residency program supervisor.
In 1999, after 15 years of combined academic and dental practice, Dr. Leopardi resumed private practice limited to implant, fixed and removable Prosthodontics in Denver, Colorado. Today he lectures nationally on subjects involving fixed, removable and implant dentistry, and is involved in clinical research. He is also the founder and President of the Denver Implant Study Club (DISC).
The Complete Denture Program Video Series
Dr. Aldo Leopardi, Prosthodontist and Mike Young, CDT demonstrate the Complete Denture technique with live patient clinical procedures and laboratory steps. This is one of the most up to date and clinically relevant online and DVD series on the Complete Denture Technique available today. Filmed in wide-screen, high definition, Dr. Leopardi discusses all aspects of the complete denture experience, covering each dental appointment with a live patient example.